Open Monday - Friday 8:30am - 4:30pm
Cheapest Cars to Repair
Cheapest Used Cars to Repair
When you're looking to buy from our auction lot for yourself or your dealership, you may be considering cars that aren't running or need repairs. Perhaps a "project" car, or a car that can easily be resold for profit once it's running well again. Car repair costs are on the rise. That means it's best to find the car makes and models with the cheapest parts. And if the cars are cheap to repair, it also means they will be cheap to maintain so they will be easier to resell.
In case you're unsure what cars are the cheapest to repair, we have a useful list. When you spot these cars on the lot, know that you won't spend a fortune in repairs. But also know that a car in need of repair is not necessarily a lemon! 🍋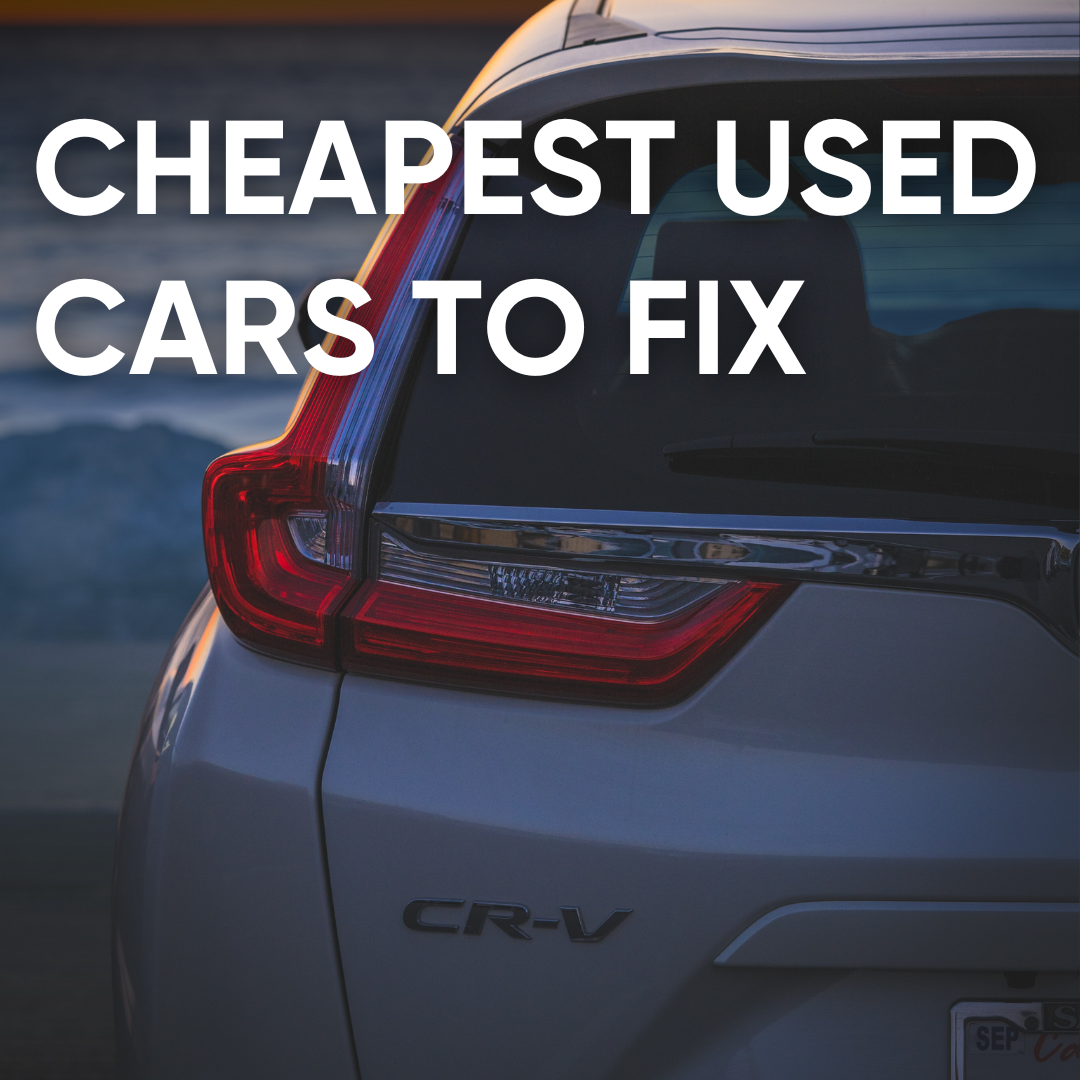 What are the Cheapest Car Parts?
Shock absorbers, rearview mirrors, oil filters, air filters, spark plugs, brake pads, disc brakes, headlights and tail lights, and clutches are among the cheapest.
You might be asking what makes a car part cheap? Well, if the car is popular, likely lots of those parts exist and are easy to get a hold of. Exotic and luxury cars have more expensive parts. Higher demand makes an impact, mechanic experience, and fewer problems with the supply chain also make a difference.
How Do You Find the Cheapest Car Parts?
Stores like Auto Zone are everywhere and charge reasonable prices. There are online sellers too, like carparts.com, Jegs aftermarket, buyautoparts.com, Discount Auto Parts, and more!
So, on to the main event! 😁
Cheapest Car Brands to Repair
There are a lot of popular Honda models, and these models are among the most affordable to repair.
Honda Civic

Honda Odyssey

Honda Fit

Honda CR-V

Honda Accord
Comparison:
On carparts.com, you'll find air filters for $10-20 for a 2015 Honda CRV. Compare that to the 4-5x you'll spend on an air filter for the 2015 BMW X6.
For all of you Ford fans, here are models on the lower end of cheap parts.
Ford Focus

Ford Fusion

Ford Escape
While larger trucks don't often have cheap parts, though widely available due to popularity, the Silverado makes the list.
Chevrolet Silverado

Chevrolet Malibu

Chevrolet Spark

Chevrolet Enjoy

Chevrolet Cruze
Comparison:
On carparts.com, you'll find brake discs and pads averaging $100 for a 2015 Chevy Cruze. Compare that to the 2015 Ram 2500, a truck on the more expensive side of repairs, averaging $200 and often for just the discs.
Another brand long known for reliability, there are used models on the cheaper end for parts and labor.
Nissan Kicks

Nissan Altima

Nissan Pathfinder

Nissan Versa
Comparison:
On carparts.com, you're going to pay more for a 2015 Mercedes-Benz E350 ignition coil than for the same coil in a 2015 Nissan Altima.
Toyota's models are popular, and it'd be hard to find a mechanic who couldn't repair one in their sleep.
Toyota Corolla

Toyota Prius

Toyota Tacoma

Toyota Camry

Toyota 4Runner
Comparison:
On carparts.com, compare the $40-60 you'll pay for a 2015 Toyota Camry tail light to the $250 for a 2015 Cadillac ATS tail light.
Mazda CX-5

Mazda MX-5 Miata
Perhaps surprising, but these Jeep models are not that expensive.
Jeep Compass

Jeep Wrangler

Jeep Renegade
Comparison:
On carparts.com, you can buy a 2015 Jeep Wrangler oil filter for around $15-25. It's around $10 more for the 2015 Land Rover Range Rover oil filter.
Suzuki SX4

Suzuki Swift

Suzuki Ignis

Suzuki Baleno
Look for these Kia models if you're looking for cheaper cars in need of repairs.
Kia Soul

Kia Sportage

Kia Rio

Kia Optima
Volkswagen Polo

Volkswagen Jetta

Volkswagen Tiguan

Volkswagen Passat
Comparison:
On carparts.com, you can buy a 2015 Volkswagen Jetta fuel pump for around $100-120. But for a 2015 Audi A3 fuel pump, expect the lowest price to be at least $80 more. Certain brands are costlier, and there are high-end universal fits.
Hyundai, like Kia, is a popular make, with readily available parts and easy repairs.
Hyundai Venue

Hyundai Kona

Hyundai Accent

Hyundai Elantra
There you are! Sometimes, parts for cars that are "generally" less to maintain are more expensive than the parts for more expensive cars.
Sometimes, certain models inflate the average of brands that boast low maintenance costs across multiple models, but the rule still applies, as yourmechanic.com lays out in this chart.
There are millions of used cars out there, so any make and model not on this list may still run cheap for repairs, large and small. However, remember that no matter the make or model, larger repairs like engines, transmissions, camshafts, the ECU, or catalytic converters will still run in the $1000s.
Browse our inventory to find cars you can repair and resell!
If you have questions, give us a call, 916-399-4422, or visit our FAQs.